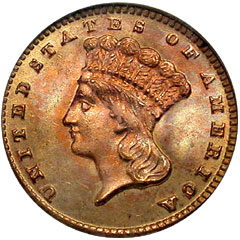 Mintage levels for the Indian Princess Gold Dollar were reasonably high during the first few years of the series and appeared in circulation with some frequency. This would change following the start of the Civil War, which caused massive hoarding of all gold, silver, and eventually copper coins. Production at three of the four branch mints was discontinued, with the San Francisco Mint also ceasing production of the denomination. The output at the Philadelphia Mint plummeted from more than 1.3 million struck in 1862 to mintages in the low thousands for most of the following years.
Production reached its absolute low with a mintage of merely 400 pieces for the 1875 Gold Dollar. By this point, it had become apparent that the gold dollar denomination was not really necessary or popular within circulation. The final coins for both the series and denomination would be struck in 1889.
The mintage levels for circulation strike issues of the series can be found below.
| | |
| --- | --- |
| 1854 | 783,943 |
| 1855 | 758,269 |
| 1855-C | 9,803 |
| 1855-D | 1,811 |
| 1855-O | 55,000 |
| 1856-S | 24,600 |
| 1856 | 1,762,936 |
| 1856-D | 1,460 |
| 1857 | 774,789 |
| 1857-C | 13,280 |
| 1857-D | 3,533 |
| 1857-S | 10,000 |
| 1858 | 117,995 |
| 1858-D | 3,477 |
| 1858-S | 10,000 |
| 1859 | 168,244 |
| 1859-C | 5,235 |
| 1859-D | 4,952 |
| 1859-S | 15,000 |
| 1860 | 36,514 |
| 1860-D | 1,566 |
| 1860-S | 13,000 |
| 1861 | 527,150 |
| 1861-D | Estimated 1,250 |
| 1862 | 1,361,355 |
| 1863 | 6,200 |
| 1864 | 5,900 |
| 1865 | 3,700 |
| 1866 | 7,100 |
| 1867 | 5,200 |
| 1868 | 10,500 |
| 1869 | 5,900 |
| 1870 | 6,300 |
| 1870-S | 3,000 |
| 1871 | 3,900 |
| 1872 | 3,500 |
| 1873 | 125,100 |
| 1874 | 198,800 |
| 1875 | 400 |
| 1876 | 3,200 |
| 1877 | 3,900 |
| 1878 | 3,000 |
| 1879 | 3,000 |
| 1880 | 1,600 |
| 1881 | 7,620 |
| 1882 | 5,000 |
| 1883 | 10,800 |
| 1884 | 5,230 |
| 1885 | 11,156 |
| 1886 | 5,000 |
| 1887 | 7,500 |
| 1888 | 15,501 |
| 1889 | 28,950 |