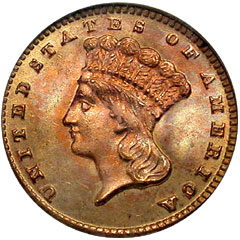 Mintage levels for the Indian Princess Gold Dollar were significant for the first few years of production at the Philadelphia Mint. The branch mints kept production low, resulting in numerous scarce issues. Following the start of the Civil War, production would take place exclusively at the Philadelphia Mint with the exception of a single issue struck in San Francisco. Although mintages would remain low for the duration of the series, these issues generally have higher survival rates resulting in continued availability for collectors.
The highest mintage for the series occurred in 1856 at the Philadelphia Mint when 1,762,936 pieces were struck. The absolute mintage low occurred in 1875 when merely 400 pieces were struck for circulation. The final coins for both the series and denomination would be struck in 1889.
The mintage levels for circulation strike issues of the series can be found below.
| Issue | Mintage |
| --- | --- |
| 1854 | 783,943 |
| 1855 | 758,269 |
| 1855-C | 9,803 |
| 1855-D | 1,811 |
| 1855-O | 55,000 |
| 1856-S | 24,600 |
| 1856 | 1,762,936 |
| 1856-D | 1,460 |
| 1857 | 774,789 |
| 1857-C | 13,280 |
| 1857-D | 3,533 |
| 1857-S | 10,000 |
| 1858 | 117,995 |
| 1858-D | 3,477 |
| 1858-S | 10,000 |
| 1859 | 168,244 |
| 1859-C | 5,235 |
| 1859-D | 4,952 |
| 1859-S | 15,000 |
| 1860 | 36,514 |
| 1860-D | 1,566 |
| 1860-S | 13,000 |
| 1861 | 527,150 |
| 1861-D | Estimated 1,250 |
| 1862 | 1,361,355 |
| 1863 | 6,200 |
| 1864 | 5,900 |
| 1865 | 3,700 |
| 1866 | 7,100 |
| 1867 | 5,200 |
| 1868 | 10,500 |
| 1869 | 5,900 |
| 1870 | 6,300 |
| 1870-S | 3,000 |
| 1871 | 3,900 |
| 1872 | 3,500 |
| 1873 | 125,100 |
| 1874 | 198,800 |
| 1875 | 400 |
| 1876 | 3,200 |
| 1877 | 3,900 |
| 1878 | 3,000 |
| 1879 | 3,000 |
| 1880 | 1,600 |
| 1881 | 7,620 |
| 1882 | 5,000 |
| 1883 | 10,800 |
| 1884 | 5,230 |
| 1885 | 11,156 |
| 1886 | 5,000 |
| 1887 | 7,500 |
| 1888 | 15,501 |
| 1889 | 28,950 |